Sports and Activities in Croatia, Diving, windsurfing, horse riding, water sports
Diving, windsurfing, horse riding, water sports, you can find sports activities in Croatia
read more...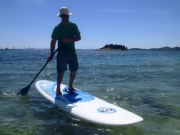 Rented by the hour or by the day, with or without instructor at Sebastian. Windsurfing: 35 euros / day catamaran: 70 euros / day. Kayak. Renting a private zodiac water skiing (Matt. included): 180 € / day + fuel.
read more...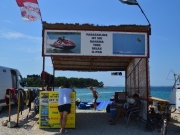 motorcycle Wed, pedalo, water skiing, banana are available on the beach.
read more...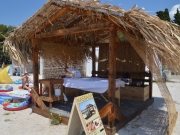 fitness room, bike rental or bike (10 euros / day), rent a scooter: (27 euros / day), beach volleyball
read more...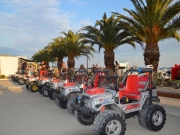 bouncy castle, trampoline, train
read more...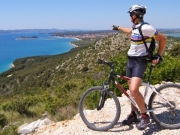 Explore the surroundings of the Natural Park of Lake Vrana ATV with Jure, your local guide.     Pakostane, we embarked on a bike ride to the village of Vrana, paved road that leads to the climax of Kamenjak to admire a wonderful panorama. Then descend in nature in the park Vrana lake, rocky canyon along a gravel road and continue west. Short break to swim in the lake.
read more...
The ropes course in the trees club "Pine Beach" Pakostane, will open for the first time in June 2012. The above example will be great! Very well for small children, they even hovers! But also a long circuit for adults! And surprise: All material comes from France! Possible entry every day, even if you do not stay at the club!
read more...
New for 2011! Club "Pine beach" has created a climbing wall! we went there at the end of the season. Ema and Kristofor loved to climb! It was great! Entry possible even if you are not staying at the club.
read more...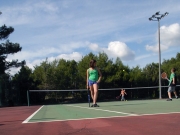 Tennis courts Pine Beach Pakoštane are available throughout the day. If you want to improve yourself, you can hire an instructor for the payment of a fee. Entry possible even if you are not staying at the club.
read more...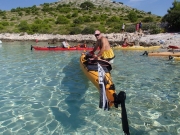 Avec les kayaks sit and top, vous avez directement l'accessibilté aux îles de Justina et Skolj en face du village. Point besoin d'être un expert pour s'amuser tout de suite. Avec un sac étanche pour mettre vos petites affaires, vous pouvez naviguer en famille ou en solo pour 1 heure ou plus.

Le petit conseil: reserver votre kayak pour le matin lorsque le vent est nul, c'est encore plus facile.
read more...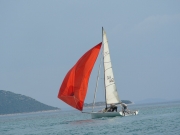 C'est comme un grand bateau à voile mais de taille plus reduite et adapté à la navigation à la journée ou demi journée. On trace la route à travers les îles environnantes pour aller pique niquer dans une petite crique merveilleuse. On s'arrête dans une baie faire du palme masque et tuba. On se deplace à l'aide du vent: pas de moteur...quel bonheur. Le petit conseil: l'experience vous tente mais vous ne savez pas naviguer: notre skipper se tient prêt à vous accompagner.
Possibilité de partir sur 2 jours vers les iles de Vrgada, Pasman, Zut, et pourquoi pas les Kornatis et de dormir dans un camping sauvage (tente - carte de adresse founis bien sur ! ).
read more...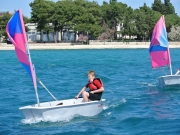 Le bateau des petits de 6 à 12 ans. Vous allez etre surpris de voir vos moussaillons manier le bateau. Quelques exercices d'équilibre, quelques jeux sur l'eau, quelques conseils et voilà vos enfants confiants et conduisant leurs embarcations sous les conseils de leur moniteur attentif.
read more...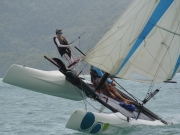 Vous etes sans aucun doute sur un des plus beaux spot du monde pour le cata.: la mer cristalline, le vent présent presque tous les jours, le plan d'eau plat et sécurisant. Il ne vous reste plus qu'à naviguer sous la formule qui vous convient: cours, location ou raid. Il y'en a pour tous les gouts.
read more...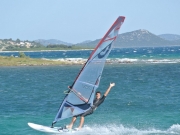 De nos jours, la planche à voile est devenu accessible. Dès la première leçon, on glisse et on dirige son flotteur. Avec un plan d'eau comme ici, des 9/10 ans on peut s'initier à la planche à voile.
read more...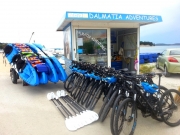 Louez un Vtt à la demi journée ou à la journée et partez le long des chemins balisés autour de Pakostane. Il y a des sentiers autour du lac de Vransko Jezero (44 km), de Pakostane vers Biograd et de Pakostane vers Drage et Prosika, de Pakostane vers Vrana. L'office de tourisme de Pakostane pourra vous fournir les cartes.
Mais vous pourrez aussi prendre le bateau à Biograd et partir sur l'ile de Pasman qui a préparé un circuit spécial pour VTT le long des crêtes de l'ile. Je pourrai vous fournir les cartes.
read more...